Pickleball is not very difficult to learn. While a price is associated with taking lessons and purchasing equipment, it is relatively affordable compared to other sports. With a little research, you can find pickleball lessons that fit your budget and schedule.
On average, you can expect to pay around $50-$70 per hour for private lessons and $30-$40 per hour for group lessons. However, the cost of pickleball lessons will vary depending on the instructor and the city where you reside.
Group lessons are usually more affordable as they involve 3 or 4 students with one professional. The pricing of lessons is all-inclusive of instructions and court time, so you don't have to pay anything extra. However, you will need to buy your own equipment when you start playing.
Let's find out the average cost of pickleball lessons and if it's possible to get some discounts on coaching classes. We will also look at different places where you can find certified pickleball coaches and how to book the sessions.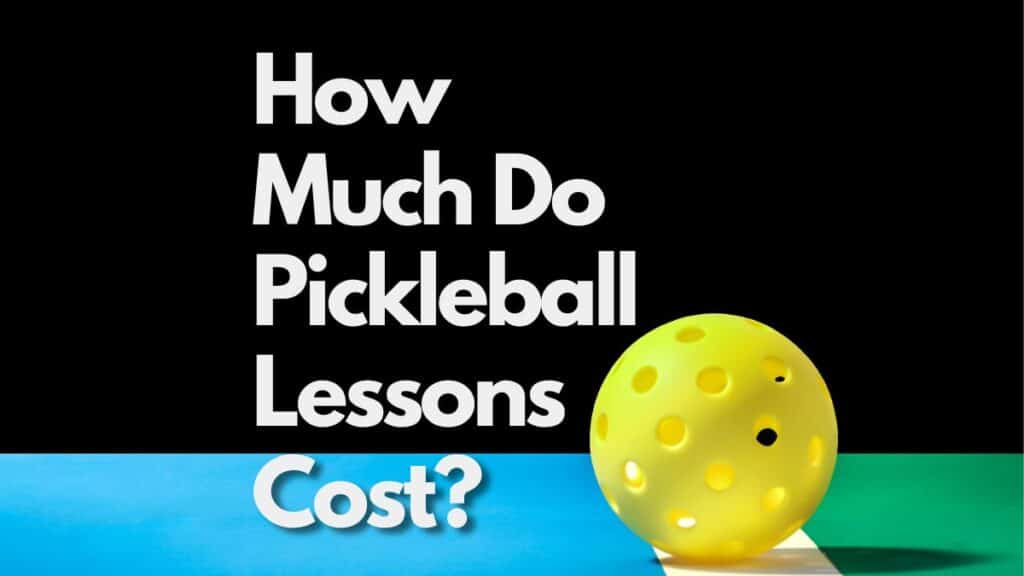 Cost of Pickleball Lessons
Reputable organizations like USTA National Campus offer private and group lessons to learn pickleball. If you opt for private lessons, which involve one-to-one coaching, the cost is $70 per person.
On the other hand, small group lessons cost $25 to $30 per person and involve groups of 3 to 4 people. Additionally, you can book semi-private lessons with two students and one professional; the price will be $40 per person.
Since these costs are for pickleball lessons per hour, you can expect to spend anywhere from $1000 to $2000 on a complete pickleball course that would last for a month or so. If you can learn the basics quickly, you can start practicing at home to save money on pro lessons.
Of course, the cost of lessons is not the only expense associated with playing pickleball. You will also need to purchase a paddle and balls, which can cost anywhere from $30-200, depending on the quality. You may also need to pay for court fees if you play at a public facility, which is around $10-$20 per hour.
Check out this article: What Pickleball Paddles Do The Pros Use?
There is no need to spend extra money on pickleball shoes because you can wear just about any running shoes or trainers for the purpose. Moreover, you won't have to pay court fees if you register with a coaching company. If you are playing in a group and have to pay the court fees, you can share them among yourselves.
Some people also spend a little more money on pickleball accessories, such as wristbands and headbands, etc. If you already have these items, well and good. If not, you can still start playing pickleball without spending any extra money.
Where to Find Pickleball Lessons?
Whether you want to learn the sport of pickleball from scratch or improve your skills, there are coaching lessons available for everyone. Coaching centers hire certified pickleball pros to teach adult lessons and drills.
There are a few different places you can look for pickleball lessons. Many community centers and recreation departments offer group lessons for a reasonable price. You can also find private instructors who visit your home or meet you at a public court.
USTA National Campus is a team of professional coaches offering pickleball lessons to people of all ages. There are also different skill levels, so you can join a course that suits your requirements. Both male and female coaches are available at USTA National Campus, and you can easily book a court or a private lesson by visiting its official website.
Some coaching centers also offer membership and discounts to their members. Templeton Tennis Ranch is another reputable center that offers sessions that last for 30, 60, or 90 minutes. For non-members, the fee of a 30-minute session is $30 for one player, $18 for two students, $15 for three players, and $12 for 4+ players.
Similarly, 60-minute and 90-minute sessions cost $60 and $90, respectively, for one-to-one lessons. Members can enjoy some discounts on these packages. For example, for a 30-minute session, the fee for members is $25 instead of $30; for a 60-minute session, the fee is $50 instead of $60.
Another place where you can find pickleball coaches is West Hills Athletic Club. Its private lesson costs a total of $189, and the duration is 3 hours. This club also offers membership to its customers, so they can enjoy discounts on pickleball lessons. Members can book a private lesson for 30 minutes or an hour for $39 and $67, respectively.
At West Hills, you can bring guests to play and learn pickleball with you. In addition, the club offers 5-hour, 10-hour, and 20-hour packages for members only, which cost $65, $63, and $61 per hour per person. It is a private lesson package, meaning the coach will offer one-to-one coaching to these players.
Other Ways to Learn Pickleball
If you're just starting out with pickleball, you should start learning in small groups. Not only will you be able to meet new people this way, but you will also get a chance to learn from their experiences. Once you make pickleball friends, you can book a public court by sharing costs with them and start playing even without a coach.
It is also possible to learn pickleball on your own. If you want to learn on your own, a few resources can help. YouTube is an excellent place to start, as many instructional videos are available for free. You can also check out books or online articles about pickleball to learn about its rules and how to play.
Here is a must-read article: How to Play Pickleball.
It is a good idea to research the sport before joining a coaching class to get the most out of your lessons. Some people may find the costs of learning pickleball not affordable, so what these people can do is find a few pickleball friends, book a court, and start practicing. Learning the rules of this game is not very difficult as the sport is very much like tennis, badminton, and table tennis.