Pickleball is a relatively recent invention compared to the predominantly 19th-century sports that it integrates elements.
Pickleball was invented in 1965 at the home of a then-member of the Washington House of Representatives in an attempt to give the children present something fun to do with whatever material was available.
In the rest of the article, we're going to look at the origins of pickleball in detail, including how it got its name, the story behind its creation, and the people who invented it.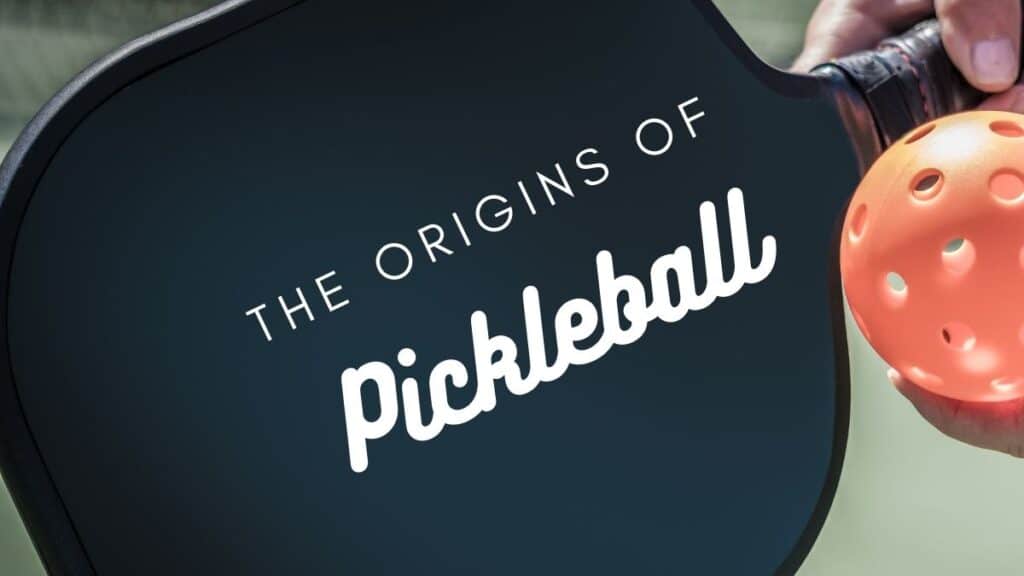 How Did Pickleball Get Its Name?
Joan Pritchard, the wife of one of the inventors of the sport, was responsible for coining the game's name. She suggested "pickle ball" as a name due to the similarity to pickle boats, a term used for boats made up of leftover rowers rather than purposely selected ones.
There was controversy around the origin of the name before the USA Pickleball Association officially cleared it up. People didn't easily make the connections because the term "pickle boat" was not universal. Around the world, it means many different things, and the definition that Joan Pritchard used is local to Washington state and spread only to some universities outside of the state.
Joan Pritchard would attend the rowing competitions held between the University of Washington, near where she was living at the time, and Marietta College, from Marietta, Ohio, where she spent her childhood. These competitions included pickle boat races and how they were made up of any rowers that happened to be left over-served as the inspiration to the ad hoc design of pickleball.
The most common myth about the naming of pickleball is that it was named for the Pritchard family dog, Pickles. The connection is perfectly logical to make as Pickles the dog was real, a puppy taken in by Jeannie, Joel, and Joan Pritchard's daughter. Pickles the puppy was only born and taken in by the Pritchards in 1968. However, three years after the invention and naming of the sport.
Joel Pritchard has since admitted to starting the rumor himself. He'd agreed upon this course of action with a reporter who was interviewing him for a national publication. When Joel presented the reporter with both the real story and the dog story, the reporter suggested that the fake story would be easier for readers to absorb and remember due to its cute and straightforward nature, respectively.
When Was Pickleball Invented?
Pickleball was first invented in the summer of 1965 on Bainbridge Island, a suburb of Seattle, Washington. Joel and Joan Pritchard owned a home on the island, where they spent their summers.
The Pritchard family's 13-year-old son, Frank, had commented one day to his father and his father's friend, Bill Bell, that Bainbridge Island was boring, being used to spending most of his time in Seattle. Joel suggested to his son that he make up a game, to which Frank retorted that Joel makes up a game. Joel was happy to accept the challenge, and so it began.
Joel Pritchard enlisted the help of Barney McCallum, a neighbor who was known for being handy, and Bill Bell, who was already present. Joel and Bill had initially found a perforated ball from a plastic toy set, table tennis paddles, and used the badminton court on the Pritchard estate. The paddles didn't last long and were replaced by ones made by Joel and Bill, but these were substandard.
Also, check out this article: Can You Play Pickleball on a Tennis Court?
Barney McCallum entered at this point to design new paddles. His creations were more aesthetic but also more functional, no longer breaking with continued use. Barney's contribution became the first of many as he was integrated as a core member of the now three-person team, along with Joel and Bill.
Read more: What are Pickleball Paddles Made Of?
The team eventually began manufacturing and selling pickleball kits in 1968, gradually building up the sport's appeal. It has been gaining in popularity over the decades, exhibiting massive growth over the past few years, with trends even indicating the potential for it becoming an Olympic sport.
Read in-depth on why, how, where and when here: Is Pickleball an Olympic Sport?
Who Invented Pickleball?
The three inventors of pickleball were Joel Pritchard, whose son had challenged him to create a new game for the children to play in suburban Bainbridge Island. Bill Bell, a friend of Joel's and visiting him at the time of this request, and Barney McCallum, a local man recruited for his handiness.
Joel Pritchard
The only Seattle native of the three, Joel Pritchard, was born in 1925 to Frank and Jean Pritchard. He was drafted into the United States Army in 1943 and fought in the Second World War. Joel left the Army in 1946 with the rank of Sergeant.
Upon leaving the Army, Joel enrolled in Marietta College in Ohio, where he met his future wife, Marietta local Joan Sutton. The young couple moved back to Joel's hometown of Seattle, where he worked for the Griffin Envelope Company as its president, a role he kept for as long as his additional political career kept him in Washington.
Joel began his first term as a member of the Washington House of Representatives, representing the 36th district, in the Seattle area, in 1959. He enjoyed three more successful reelections in this role before running for the Washington Senate, which he began his first term within in 1967.
Joel tried to segue into federal politics when he ran in the election for Washington's 1st district, representing largely Seattle suburbs, in 1970. He was not successful that year but won the next election for the same district, entering as a member of the United States House of Representatives in 1973. He won the next six reelections but did not run for the seventh.
After leaving federal politics and returning to Seattle, Joel ran for the office of Lieutenant Governor of Washington, which he won. He won his reelection four years later but retired at the end of his second term in 1997. He is remembered as a Rockefeller Republican, sitting on the social left-wing of the Republican Party.
An avid sportsman in his personal life, Joel had been at points involved in football, basketball, tennis, swimming, badminton, squash, skiing, mountain climbing, and, of course, pickleball. Joel Pritchard passed away in October 1997, the year of his retirement, from lymphoma.
Bill Bell
Bill Bell was born in 1924 in Bradford, Pennsylvania, moving to Washington in his childhood, where he completed high school in Spokane. Also a World War II veteran, Bill joined the United States Army in 1943, saw combat in Europe, and was honorably discharged in 1945.
In another similarity to Joel's trajectory, Bill was also involved in both business and politics. His work in local politics in Seattle introduced him to Joel, a crucial early milestone in the origin of pickleball.
A law school graduate, Bill's work in the private sector included a managing director of the Seattle World Trade Center, a board member and later vice president for the International Nickel Corporation, and managing director for Faber Merlin. His work took him from Seattle to places such as New York City, Indonesia, and Hong Kong.
Bill's political work included an early stint as the manager of Dan Evans' campaign for Governor of Washington, which was successful. Following his career in the private sector, Bill held roles in The Center for Naval Analysis and The Hudson Institute before retiring completely in 2006 and passing away the same year.
Bill's work across the Pacific Rim made him instrumental in spreading pickleball to countries within Southeast Asia and Australia.
Barney McCallum
The youngest of the three creators of pickleball, Barney McCallum, was born in 1926 in Davenport, Washington, where he spent the rest of his childhood, graduating from Davenport High School. He enlisted in the United States Navy in 1944, leaving in 1946 with the rank of Seaman First Class, which was an E-3 naval rank at the time.
Following his time in the Navy, Barney attended the University of Washington but did not graduate, instead of starting work at the Griffin Envelope Company, which Joel Pritchard would become president of. Barney eventually left the company to found his own, called McCallum Envelope & Printing Co.
His keen business sense made him very successful as the owner of his own company, but this also carried over to the early promotion and development of the business side of Pickle-Ball, Inc, the company co-owned by the three creators of the game. In addition to marketing, Barney could also scale up manufacturing as demand for the pickleball sets grew.
Barney McCallum passed away in 2019 after a long, healthy life.
Conclusion
We've learned that even though the origins of pickleball are often shrouded in fanciful stories or obscure etymology, the game was ultimately founded by three men – Joel Pritchard, Bill Bell, and Barney McCallum – who wanted to give their children something fun to do on a hot summer's day in 1965.
Read: How to Play Pickleball
We also now understand the connection between pickleball and pickle boats, which the game was named after.