Invented in 1965 by US Congressman Joel Pritchard and his friend Bill Bell, pickleball has seen a massive rise in popularity over the last two years. Professional leagues and tournaments are held throughout the United States, in which pro players can earn prize money of $75,000 or more. Some of these leagues include the US Open Pickleball Championships, the Pickleball Masters, and the USA Pickleball National Championships. 
Pickleball is a professional sport where most professional players also have sponsorship deals and teach coaching sessions to contribute to their overall earnings, and a top player can be making anywhere from $50,000 to $200,000 a year.
The rest of this article will go into more detail about the growth of the sport, how players have been able to become professional, and what the future looks like for pro pickleball.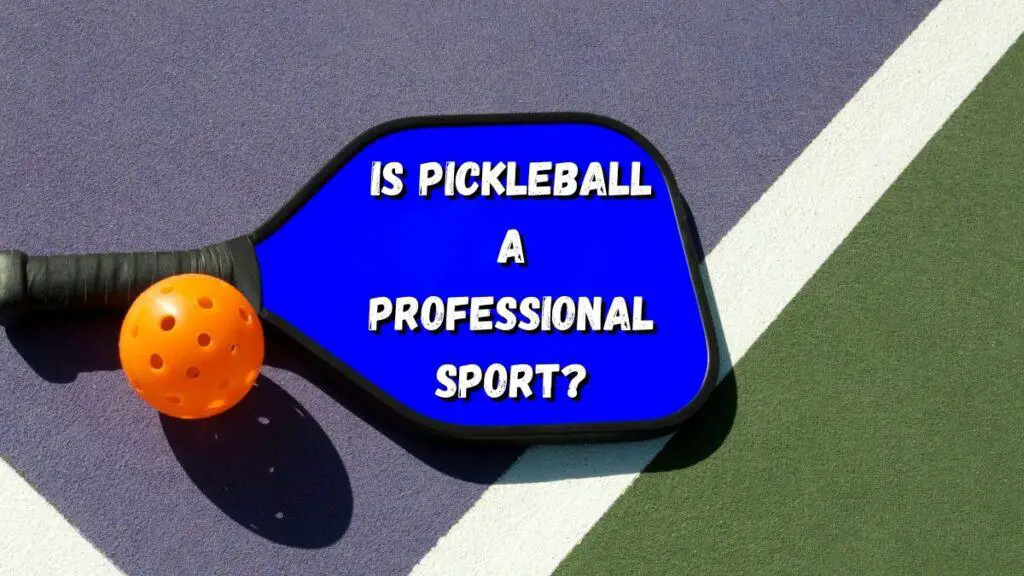 Is Pickleball Played Professionally?
Up until relatively recently, playing pickleball professionally required the payment of tournament entry fees in order to compete for prize money. Without teams, coaches, and the opportunity to become drafted or sponsored through college, the earning opportunities within pickleball are still more limited than in other sports. However, there is growing potential for professional players to earn a significant salary.
Earning a living on the prize money from leagues and tournaments alone is rare within the sport, as there are only around 10 tournaments on the US circuit that offer $20,000 or more. Professional players sustain their careers mainly through sponsorship deals for their gear and equipment, alongside coaching for those who are outside the top bracket.
In terms of the numbers, the Professional Pickleball Registry, the official education and certification partner of USA Pickleball, has over 2,400 members and growing. Besides certified coaching, there are hundreds of highly ranked pickleball players, many of whom are earning through sponsorship opportunities as well as prize winnings.
How Do Professional Pickleball Players Earn Their Living?
Even for top players, league and tournament prizes are rarely the sole source of income. Sponsorship for gear and equipment is easily the highest earner for most professionals, and the money available in that area is increasing rapidly all of the time. Selkirk Sport, the leading brand for paddles and accessories in pickleball, raised their player incentive by over 50% to $300,000 for tournaments in 2019.
At the 2019 Margaritaville USA Pickleball National Championships alone, gold sponsors included ONIZ, Paddletek, Franklin Pickleball, and Mueller Sports Medicine. FILA has also started to get in on the action and became the Official Athletic Apparel and Footwear Supplier of Nationals.
For many top professional players, becoming a brand ambassador for a company like Selkirk has allowed them to pursue playing for a living without having to rely as much on coaching. For other professionals, coaching pickleball is a large part of their income. With students paying at least $10 per hour and coaching groups of 10-30 students at once, coaches can make a significant income.
Can You Go Pro in Pickleball?
As the popularity of the sport increases, the opportunities for individuals to go pro are becoming more obvious. The money available within the sport is increasing, and starting as a coach and working your way up to playing professionally full-time is becoming more viable for players. Brand ambassador for Team Selkirk, and top-ranked men's singles player, Tyson McGuffin spoke about how his career was advancing in 2020.
When I first started playing in 2015, I was teaching tennis at a club working 40 to 50 hours per week. Little did I know four years later I'd be in the position that I am now: playing professionally and only teaching 20 hours a week.

It says something about the sport in general that the money and opportunities are growing. I mean, for me, if I could get to a point where I didn't have to teach anymore and could play for a living, that would be a dream come true, and it's heading toward becoming a reality.

Tyson McGuffin
As of early 2022, Tyson is now the number 1 ranked player in the world.
Who Are the Professional Pickleball Players?
Originally, pickleball was seen as a more casual sport for older tennis players or players who preferred a less physically demanding pursuit. Nowadays, many young, talented tennis players are switching over to pickleball because of its rapid growth and exciting nature, as well as the increasing financial opportunities.
Read more where it originated here: What Are The Origins Of Pickleball?
Zane Navratil, ranked number 3 in the world, was originally a tennis star as a child, winning school titles and playing collegiate tennis. He swapped his tennis racquet for a pickleball paddle a few years ago and now, at 27, has competed in 15 different pickleball events, earning several titles.
Want to play on a tennis court? Read this first: Can You Play Pickleball on a Tennis Court?
Rafa Hewitt, ranked number 14, also moved over to pickleball from his roots in tennis. He was attracted by the sport's fast pace, tactics, and unpredictability and realized that money was available for people getting in on the ground floor.
Ben Johns, currently ranked number 1 for doubles, has been at the top of the game for a few years and, alongside earning significant prize money and sponsorship, has started multiple business ventures in the world of pickleball. Ben has diversified his earnings greatly within the sport from Pickleball Getaways, which offers all-inclusive vacations with professional pickleball instruction, to Pickleball 360, an instructional video subscription service.
Sarah Ansboury was, in some ways, the first professional pickleball player and is now a coach and member of the Professional Pickleball Federation. She has said that forming a professional association has gone a long way towards providing players with sponsorship and significant income opportunities that will hopefully allow the sport to continue to grow.
Want to know what kind of paddle professional paddle player uses? Check this article: What Pickleball Paddles Do The Pros Use?
How Much Money is in Pickleball?
While tournament prize winnings of $200,000 or $300,000 are a significant amount for any professional, the overall money in pickleball is still relatively minor compared to other sports. For professional players to earn more than $50,000 a year, they are often relying heavily on coaching, and the more lucrative sponsorship deals are still only really available to the top players.
Most professionals are not playing full-time and are either supporting their passion through secondary careers or spending significant amounts of time coaching. However, with a growth in participation of over 20% last year and the number of countries in the International Pickleball Federation more than doubling over the previous two years, more and more are coming into the sport in the future.
In 2020 there were around 4.2 million pickleball players in America and approximately 21.5 million tennis players. If popularity continues to grow, you can expect the money to follow.